The International Evaluation Academy is thrilled to introduce Viviana Lascano as our new Coordinator. With over two decades of experience in project management, planning, monitoring, and evaluation in the public sector of her country, Viviana brings valuable expertise to the IEAc.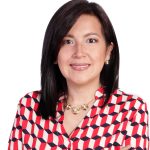 In her role, Viviana will support the Academy's structures and processes while efficiently managing administrative functions. We welcome her to the team, confident that she will be an outstanding addition to our organization.
For any inquiries or collaboration opportunities, feel free to contact Viviana at ieac.coordinator@gmail.com or coordinator@ieac.global.